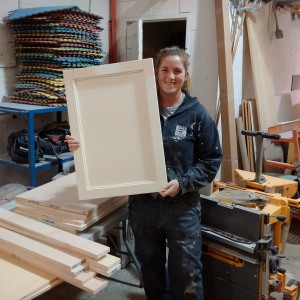 "The intention was simple, the results have been exponential"
I love when a "gift" is more than a gift and especially when it is a surprise!
Every year at JWS Woodworking, I offer our cabinet makers and Outdoor Carpenters the opportunity to work on their own personal projects in the shop. We cover their shop expense and within reason – their materials and they happily build, cabinets, wall units, mantels, tables and odds and ends for either themselves or their families. Of course, the cabinet-makers typically have had enough of cabinet making by the time this event rolls around, so, although they appreciate the offer, they end up typically watching over our outdoor carpenters with care and some amusement! The intention of the idea was simple, the results have been exponential! It is surprising what can sneak up on you when you are not looking.
Alas! The GIFT!
Not only do the cabinet makers see the joy in the faces of the carpenters as they fashion something "magically" that is for INSIDE the home, the outdoor carpenters learn and feel the craftsmanship and precision, the care and finesse that goes into EVERY stick of a piece of JWS Woodworking Cabinetry. An appreciation is born and galvanized with wood and glue.
It doesn't stop there. Anyone, who has ever made anything for themselves will be able to relate. The joy of giving a gift that you have made yourself, that you have laboured over with your own hands, that you have fretted over and critiqued far more critically than any other person on the planet would have – it not only a significant risk, it is an action with a long lasting impression. I originally just thought it would be nice to give my team a "break" on the cost of building something for themselves as a simple gift at Christmas, but honestly the result over the years really has had far more collateral reach than I could ever have imagined. To be able to "teach" a carpenter what it is like to be BOTH "giver and getter" in one fell swoop is a gift again, not only to them but to me as an employer and a mentor. To empower someone to take risks beyond their skill set with the safety net of a master cabinet maker like we have at JWS is a gift to me as well.
I guess the point is. As employers and mentors, we can give Christmas bonuses, we can struggle to find work for our charges and keep them gainfully employed for TODAY, but maybe what we prepare them for as they stay on with us or ultimately go off on their own journey is as great a gift as any other we could give them. We give to each other as a team, great gifts daily at JWS, the rest seems to just sneak up on us. After all, as the song says, "The best gifts in life are free.."
Merry Christmas and a heart felt THANK YOU to all of our team and our loyal following of clients.
John