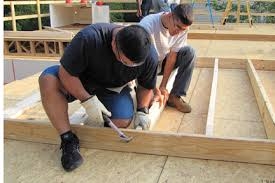 This week I went to "Talk to the Kids." And by kids, I mean, students at the Waterloo campus of Conestoga College in the Renovation Technician Program.
I was invited by their instructor Mr. Steve Doherty who was gracious enough to reach out and invite me to this awesome opportunity. At first I wasn't sure if I could find the time, but let me tell you I am darned glad I did! The experience was positively wonderful. The value of education, to me, is priceless and supporting new trades is of paramount importance. Not one year has gone by since 1995 that JWS Woodworking and Design Inc. has not had an active apprentice, High School Co-op student or College Co-op student on our team in some capacity or another, and sometimes all THREE! (A heart felt Thank-you to all the team members that have supported this with their time and patience!)
Teaching, to me, is something that has always come naturally. When I say "teaching" I mean the part where you are imparting knowledge onto to others that only you and your point of view can accomplish. It is different than an "instructor" or a "facilitator" fashionable trendy terms in "Education" at the moment. To me an instructor is imparting instructions to you…"that's not how I showed her to use the saw…now hurry up with that first aid kit…" Further, a "facilitator" suggests a holistic, grass roots approach to learning that sounds so soft and nice but…"he ALWAYS has used the Vice Grips as a framing hammer, don't crush his self esteem…" Nope, a "Teacher" pulls on the big person pants and is all in! Like Daniel Craig as 007 in Casino Royal – a "Teacher" slides ALL the chips across the table and says, "kids, I am all in and this is how it is done…"
Even though I was only chatting with these young, soon to be, wide eyed renovators, I felt that tugging responsibility of a teacher. Peppered with blatant realities and foundation forming truths, the experience was positively intoxicating. I wont drag you through the entire chats contents but will outline a brief synopsis here in general points, they went;
1) It took a hell of a long time to get to the point I am at now and I am still stunned and thankful everyday that we have any success at all! Be patient. 2) You are absolutely nothing without a good team AND a good team knows they are nothing without a good leader….not for long anyway. Yes, working alone means you get to keep all the marbles…it also means you get to lose them all too… 3) Your resume is intended to get you an interview, don't over do your list of experiences but putting a whole lot of junk in there that doesn't matter and don't tell someone you "lack experience but are willing to learn…" 4)People naturally and un-maliciously will take anything you give them for free. By all means, you are likely going to open more doors by providing "free estimates" but don't start your career off by leaving all sorts of "free" design work for people dotted all over the city. Opinions are free, intellectual property and ideas are valuable and should be paid for. 5) Value yourself and others will follow suit. If you show up on the job site looking like you just wrestled a gorilla for your breakfast and have a fear of shaving cream or bathing…you will be treated accordingly. (The best painter I ever met – had ZERO paint on his shirt, when I commented on its condition, he pointed out he was only "keeping the paint where I paid him to put it…" ) 6) Finally – do a good job. We ended with the adage (not mine I have to point out..) "Build things like you own them, because every time you drive by them, you will!"
While we also chatted a good deal about dealing with clients and setting prices for installation work and design work, we also touched on what a fickle and daunting business Renovations in general can actually be. I talked, they listened, they asked questions and I answered as best I could. One thing was absolutely clear to me at the end of the sessions and that is that there is a lot of hope out there for our future generations of trades and a lot of work. The trades have changed, materials have changed and society has changed. However, the importance of Renovators teaching their "children" well has never been more important.