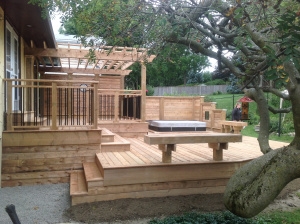 Yeah yeah….its Spring, almost….. There is at least a few feet of snow on the deck and it is still pretty cold outside, but it is likely time to pick up the phone to start the search for the right contractor for that terrific outdoor room you have been waiting for. When the classic "calling three contractors" is still leaving you feeling unsure. Here are a few tips that might help.
1) Carefully Consider Your Budget: Before calling anyone, I would suggest you carefully consider what you are wanting to invest in your home and be prepared to discuss the budget with your contractor candidates. People who don't want to discuss budgets with me on the first visit or who tell me they have "no idea" what they want to spend on a project present themselves as either naïve or dishonest. Neither leave a good first impression and neither are the type of clients that are likely to attract higher quality contractors. Take some time to develop a wish list, a materials preference and a number that you can invest and not be worried about. In the end, it will make the hunt for the perfect outdoor space, much more enjoyable.
2) Don't "duck" the calls…make them: We do amazing work, we look after people well and our clients want everyone to know it! On every visit to a home that JWS Woodworking and Design Inc. invests our time in, we present our potential clients with a list of up to 60 references. If they want more – there is another 60 after that, as so on and so on. The list is randomly chosen from our data bank and they have numbers and addresses that clients are invited to invest some time in and to learn more about our approach, our services and our quality of work. Don't "ask" for references, expect them.
3) The Internet is a Jungle: When it comes to products that we use for decking. It always surprises me how potential clients will spend time looking on the internet and researching products, but often fail to ask around locally and actually "put feet on" a product they pass over as "flawed" or "too expensive" or "too splintery" based simply on some 'review" by an unsatisfied client from "Whereverville" from 2001! This case holds true across the board. There are an astounding array of positive attributes of real wood that composite or vinyl decking simply does not have – and visa versa. The fact is, there REALLY is a deck material for every budget and every style. Very few of the "main" ones we use could ever be viewed as a "poor" choice when put into context. The very best thing you can do is book some time with your contractor, go to the decks that they have built, using materials you are considering. Talk to the homeowners about the pro's and con's of the material you are considering and then make a decision based on personal experience.
4) Finally, be patient: Good things do come to those who wait. The fact is, good contractors are busy, GREAT ones are BOOKED! Calling now for deck design process and planning should see your project taking shape later in May or June, possibly July. When it comes to building you a custom designed, well planned, accurately budgeted outdoor living space – you want someone who has their act together. For most of the "Great" contractors – this meant bookings in the Fall of 2014 were filling Spring 2015 spaces long ago. Be a little patient and you will not be disappointed.
Happy Deck Hunting Season!
JWS Woodworking and Design Inc. is a small, client centred renovation company, established and grown in The Waterloo Region. We have the best clients in the world that invite us to their homes and hand over the keys to the garden gate, letting us create the most innovative, enjoyable and down right FUN outdoor living spaces in the region.